Small Business
ORIP helps meet the needs of biomedical researchers for high-quality, disease-free animals and specialized animal research facilities. ORIP participates in the Small Business Innovation Research (SBIR) Program and the Small Business Technology Transfer (STTR) Program. The Divisions of Comparative Medicine and Construction and Instruments are especially interested in funding research to develop biomedical methods and technologies that relate to improvements in animal models of human disease, and the care, use, and management of laboratory animals.
Areas of special interest to ORIP include:
Methods for identification or production of new mammalian or non-mammalian animal models;
Improvement of animal models and development of technologies for stem cell-based regenerative Medicine;
Development and commercialization of technologies to create, characterize or improve animal models of human disease, including models that relate to human precision medicine;
Methods for identification, production and preservation of new mammalian or non-mammalian animal models;
Development of methods, equipment or reagents that facilitate the use of zebrafish for translational research;
Development of novel and emerging technologies for the accurate detection and diagnosis of polymicrobial infections in biomedical laboratory animal models; and
Development of innovative methods and tools to control and prevent selected laboratory animal diseases.
ORIP has prepared the following materials for those seeking more information about its SBIR/STTR Programs: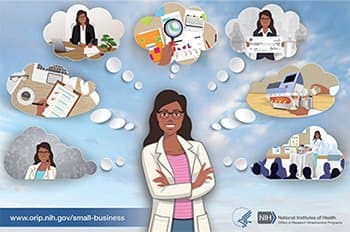 Resources for Small Business Applicants
Last updated: 04-06-2021