You are here
Home
»
About ORIP
»
Research Highlights
»
ORIP Support for Small Businesses Leads to New Commercial Technology Outcomes That Benefit Community Resources and Advance Research Discoveries
ORIP Support for Small Businesses Leads to New Commercial Technology Outcomes That Benefit Community Resources and Advance Research Discoveries
ORIP participates in two federal grant programs that provide funding to small businesses: the Small Business Innovation Research (SBIR) program and the Small Business Technology Transfer (STTR) program. The primary goal of ORIP's small business programs is to attract innovative SBIR/STTR projects that could benefit research resources and communities associated with ORIP's mission. The SBIR program is designed for domestic small businesses to engage in biomedical research and development (R&D) that has the potential for commercialization, and the STTR program is designed to facilitate cooperative R&D between small businesses and U.S. research institutions, with the potential for commercialization.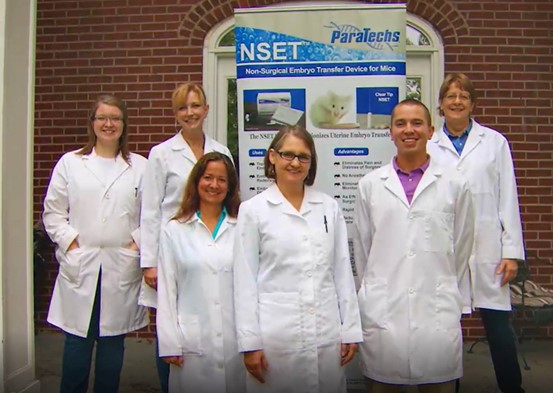 Figure 1. With the support of ORIP's small business programs, a group of scientist entrepreneurs, led by Drs. A. Fath-Goodin (center) and B. Stone (third from left), brought to the marketplace a Nonsurgical Embryo Transfer (NSETTM) device that provides an alternative to surgical methods and reduces pain and distress from assisted reproductive techniques used in laboratory animals (i.e., rodents).
ORIP's small business programs support the development and commercialization of technologies to (1) better understand, preserve, characterize, improve, and treat animal models for a wide range of human diseases and (2) support the development and implementation of technologies to benefit the welfare of research animals and to improve animal facilities that support biomedical and behavioral research. ORIP has aligned its small business programs to help develop new technologies that could benefit the research resources that the Office supports. This effort has enabled several downstream commercial outcomes at different stages of development—such as diagnostic tools, products to support new research capabilities, improvements to the welfare of research animals, and additional resources for the research community.
Improving or adapting new technologies is important for refining model characterization, promoting animal husbandry and welfare, enhancing the utilization of and procedures for research studies, and pursuing preclinical studies. (See the workshop report of the Validation of Animal Models and Tools for Biomedical Research, Session VIII. Technologies, Phenotyping, and Data Science for Animal Models for more information.)
Rodents
Many researchers use rodent species, such as mice and rats, as models for biomedical discovery. Rodents are one of the most utilized animals in basic and preclinical studies. These animals serve as useful models because they offer high genetic homology with humans, rapid reproduction capabilities, efficient and inexpensive systems for housing and husbandry, easier phenotypic characterization, and well-developed resources and tools for genetic manipulation.
ORIP's small business programs are helping support new technologies for the creation, characterization, and evaluation of rodent models, which ultimately will improve the different stages of validation of such models for their use in biomedical research. The following small business concerns are at different stages in the development of technologies to improve rodents' well-being and provide better devices for rodents' use in preclinical research.
Model Creation and Characterization
Improved Husbandry, Well-Being, and Welfare
Improved Utilization and Procedures for Research Studies
Preclinical Studies
For More Information
For additional information on ORIP's small business programs, visit ORIP's Small Business webpages. Fact sheets are available in English and Spanish. Additionally, potential applicants can learn more information about ORIP SBIR/STTR eligibility requirements through the interactive Small Business Eligibility Wizard.
References
1 Huda K, Wu C, Sider JG, Bayer CL. Spherical-view photoacoustic tomography for monitoring in vivo placental function. Photoacoustics. 2020;20:100209. doi:10.1016/j.pacs.2020.100209.
2 Fix SM, Papadopoulou V, Velds H, et al. Oxygen microbubbles improve radiotherapy tumor control in a rat fibrosarcoma model—a preliminary study. PLoS One. 2018;13(4):e0195667. doi:10.1371/journal.pone.0195667.
Last updated: 12-01-2022