National Xenopus Resource Center
Grant Number: P40 O10997
Research Emphasis/Objectives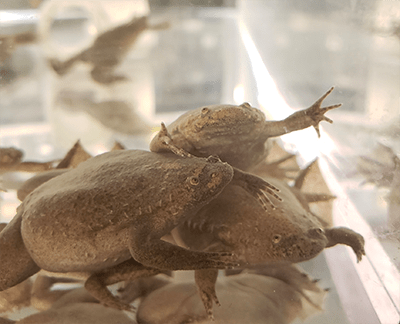 The National Xenopus Resource (NXR) was established to maintain, generate and distribute critical animal stocks, disseminate new technology, and optimize animal husbandry techniques all for the purpose of promoting and enhancing the use of Xenopus as a biomedical research model. The NXR serves as a stock and distribution center for many transgenic, mutant, and inbred X. laevis and X. tropicalis lines, as well as limited numbers of wild-type individuals from other, less commonly used Xenopus species. As a service to the research community, the NXR also creates custom novel transgenic and mutant lines when requested by individual labs. Additionally, in collaboration with the Marine Biological Laboratory (MBL), the NXR offers advanced training workshops, organizes scientific meetings, and provides visiting scientists with laboratory space, animals, and resources to perform onsite short-term research projects. Being a centralized repository for many diverse lines of Xenopus used in research and a major site of teaching cutting-edge Xenopus research techniques, the NXR aids in fostering the reliability and reproducibility of research that relies on Xenopus as a model.
Services Provided
Animals
Healthy stocks of inbred, mutant, and transgenic X. laevis and X. tropicalis are maintained and distributed by the NXR. The NXR stocks include both lines donated by members of the Xenopus research community and novel lines generated in-house. The inbred X. laevis J strain, whose genome has been sequenced, also is available. Xenopus species less commonly used in research are progressively being added to the colony and might also be available in small numbers. Animal lines are available for distribution at all life history stages, including embryos, tadpoles, froglets, juveniles, and adults. Lines can also be provided as isolated testes or cryopreserved sperm.
Custom Research Services
The NXR creates custom transgenic and mutant X. laevis, X. tropicalis, and X. borealis frogs for individual researchers as a low-cost service. Transgenic animals are made using the I-SceI meganuclease method, while mutant animals are created using CRISPR/Cas and TALEN methods. The NXR has expertise in custom line generation and can advise on many aspects related to generating a transgenic construct or identifying mutagenesis target sites. The NXR excels in breeding specialized frogs in a rapid and efficient manner, allowing investigators to focus on other aspects of their research and leaving the husbandry to us.
Advanced Training Workshops
The NXR serves as a training venue for the community. In collaboration with the MBL, the NXR hosts advanced training workshops and mini courses tailored specifically to Xenopus techniques. These workshops are designed specifically with the Xenopus community in mind and are geared to complement and advance research in individual labs; topics covered include genome editing, advanced imaging, bioinformatics, and husbandry. The curriculum focuses on novel, cutting-edge techniques. The NXR also provides animals in support of long-running and well-established MBL courses, including Embryology and Frontiers in Reproduction.
Research Facility Service
The research facility service offers investigators the opportunity to come to the NXR to perform short-term research projects utilizing NXR resources. This is open to all scientists interested in performing experiments in Xenopus, regardless of whether they currently use frogs. Researchers have access to all our currently available wild-type, inbred, transgenic, and mutant animal stocks, common laboratory equipment and supplies (including microinjection apparatus), and the extensive expertise of our staff. Researchers can embed directly into the NXR laboratory space or acquire their own laboratory and housing from the MBL. During summer, when housing in Woods Hole, Massachusetts, is at a premium, the NXR has housing space available specifically for researchers interested in working on Xenopus.
Contact Information
National Xenopus Resource
Marine Biological Laboratory
7 MBL St.
Woods Hole, MA 02543
xenopus@mbl.edu
mbl.edu/xenopus
Principal Investigator
PI: Marko Horb, Ph.D.
Phone: 508-289-7627
Fax: 508-289-7900
mhorb@mbl.edu
Other/Resource Contacts
Marcin Wlizla, Ph.D.
NXR Manager
Phone: 508-289-7370
Fax: 508-289-7900
mwlizla@mbl.edu
Nikko Shaidani
NXR Assistant Manager
Phone: 508-289-7370
Fax: 508-289-7900
nshaidani@mbl.edu
Last updated: 08-18-2021