National Swine Resource and Research Center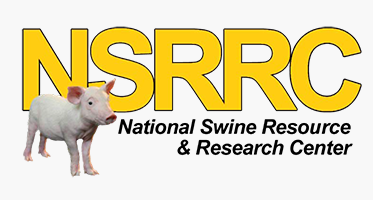 Grant Number: U42 OD011140
Research Emphasis/Objectives
The National Swine Resource and Research Center (NSRRC) was established in 2003 to develop the infrastructure to ensure that biomedical investigators across a variety of disciplines have access to critically needed swine models of human health and disease. The NSRRC also serve as a central resource for reagents, creation of new genetically modified swine, and information and training related to use of swine models in biomedical research.
Services Provided
Animals
Swine are imported into the resource center and rederived to a pathogen-free status, and gametes, embryos, and somatic cells are cryopreserved to prevent future loss. Swine models are then available for distribution to biomedical investigators.
Biological Materials
Cells/tissues/organs.
Health Monitoring
The NSRRC performs ongoing health monitoring to assure maintenance of a pathogen-free status.
Cryopreservation
The NSRRC cryopreserves and stores gametes, embryos, and somatic cells to prevent loss of valuable models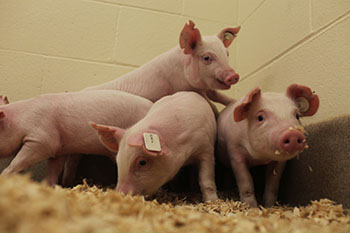 Research
Improved techniques for cryopreservation of pig reproductive cells and tissues
Improved methods for the detection and elimination of microbial pathogens in pigs
Development of improved methods for the production of genetically engineered swine
Principal Investigator–Driven Model Creation
The center creates custom models for NIH-funded investigators. Requests are evaluated by the Steering Committee and prioritized. Animals are first distributed to the requesting principal investigators, then made available to others.
Contact Information
National Swine Resource and Research Center
WBC 107 Animal Science Research Center
University of Missouri
920 East Campus Drive
Columbia, MO 65211
nsrrc.missouri.edu
Co-Principal Investigators
Randall S. Prather, Ph.D.
University of Missouri
Animal Science Research Center
Phone: 573-882-6414
pratherr@missouri.edu
Kevin D. Wells
University of Missouri
Animal Science Research Center
Phone: 573-882-1765
wellskev@missouri.edu 
Other/Resource Contacts
Kristin M. Whitworth
University of Missouri
Animal Science Research Center
Phone: 573-882-1331
whitworthk@missouri.edu
Last updated: 08-18-2021