National Resource for Aplysia
Grant Number: P40 OD010952
Research Emphasis/Objectives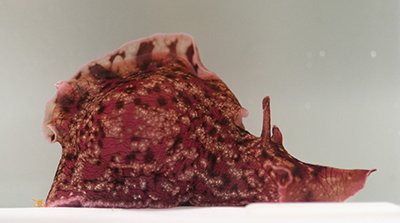 The National Resource for Aplysia provides investigators with laboratory-reared California sea hares, Aplysia californica, of known age and standardized environmental background at all stages of development, from eggs to mature adults, as well as red algae to feed animals.
The primary goals of the Resource are to optimize and standardize Aplysia used by NIH investigators and to expand the uses of the Aplysia model system. This includes a health monitoring program and studies to optimize larval rearing and diet at all life stages. Current research programs focus on investigating behavioral, neurophysiological, and transcriptomic changes associated with aging and onset of senescence. Landmarks of aging created through these studies are used to produce quantifiably aged animals for researchers. Studies also are ongoing to determine the effects of exercise on learning through the lifespan, as well as resistance to prolonged hypoxia normally encountered by these intertidal animals.
Aplysia is an important educational tool, as well. The Resource regularly provides animals for use in hands-on neurobiology labs, from high school through graduate-level courses. 
Services Provided
Sibling animals of known ages and stages are available to investigators throughout the year. On request, Aplysia and its food (red algae) are shipped via FedEx overnight priority. Special cohorts, procedures, or manipulations of animal groups can be arranged by contacting the Resource.
The colony currently contains more than 10,000 laboratory-reared animals at various life stages. All animals are produced from field-collected brood stock or field-collected animals bred to lab-reared brood stock, monitored for health, and randomly tested for behavioral responses prior to shipping.
Facility staff will provide advice on setting up marine aquarium facilities for short-term holding of Aplysia shipped from the Resource.
Guest Investigators and Graduate Students
Guest investigators and graduate students interested in studies of life history, culture, genetics, and neurophysiology are encouraged to inquire about conducting studies at the Resource. Selection will be based on the relevance of the proposed study and the availability of resources to meet individual needs.
Contact Information
National Resource for Aplysia
Rosenstiel School of Marine and Atmospheric Science
University of Miami
4600 Rickenbacker Causeway
Miami, FL 33149
National Resource for Aplysia
Principal Investigator
Michael C. Schmale, Ph.D.
mschmale@rsmas.miami.edu
Scientific Director
Lynne A. Fieber, Ph.D.
lfieber@rsmas.miami.edu
Resource Manager
Phillip Gillette
Phone: 305-421-4941
pgillette@rsmas.miami.edu
Last updated: 08-16-2021