ARRA Program Helps Enable Revolutionary Discoveries in Gene Therapy
Located within the heart of the Children's Hospital of Philadelphia (CHOP) Research Institute, the Clinical Vector Core (CVC) fills a unique role within the biomedical research community. The CVC provides services to academic, industry, and government groups for the advancement of gene therapy research. An ORIP award (G20RR030997) administered through the 2009 American Recovery and Reinvestment Act (ARRA) grant program—whose goals were to stimulate the U.S. economy, create and preserve jobs, and advance scientific research—helped expand the CVC's state-of-the-art capabilities, enabling the academic facility to implement Current Good Manufacturing Practices (CGMP) in compliance with private industry standards. A total of 148 ARRA awards were granted through ORIP to support the construction or renovation of 64 animal facilities, 56 research laboratories, 17 clinical research facilities or laboratories, 8 imaging facilities, and 7 data centers.
The CVC is part of the CHOP Research Institute's Raymond G. Perelman Center for Cellular and Molecular Therapeutics (CCMT), which is directed by Dr. Beverly Davidson, Chief Scientific Strategic Officer of the CHOP Research Institute. The CCMT was founded in 2004 to manufacture viral vectors for cell and gene therapies. At that time, gene therapy was a new field that often was considered too high risk for investment within the private sector. Therefore, clinical-grade vectors were largely unavailable to investigators. With the ARRA award, which was granted in 2010, the original CVC facility was expanded and upgraded to meet this critical need. Later, the CGMP space within the CVC was relocated to the Ruth and Tristram Colket, Jr. Translational Research Building to expand the capabilities for increased production capacity for clinical-grade vectors (Figure 1).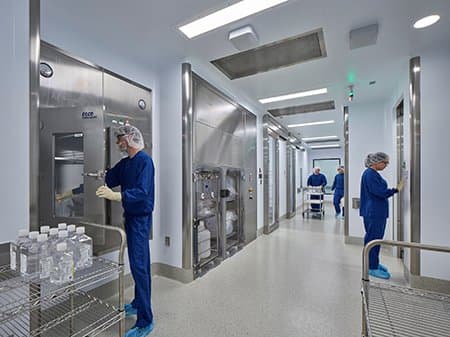 Figure 1. Personnel in clean hallway getting ready for manufacturing within the Clinical Vector Core. Photo courtesy of Dr. Johannes C. M. van der Loo, Children's Hospital of Philadelphia Research Institute.
Dr. Johannes C. M. van der Loo, CVC Director, explained that ORIP's early support for the facility has been crucial to its success over the years. He emphasized the importance of continued support for academic institutions. "For us, the support was essential. Progress in the field of gene therapy and vector manufacturing was critically dependent on NIH and academic initiatives, because the field hadn't proven itself yet," Dr. van der Loo remarked. "The landscape has changed now, as it was back in the day when we received this grant, but the NIH and ORIP continue to play an important role in supporting these types of initiatives, especially for smaller academic centers."
The CHOP Research Institute is a crucial component of "Cellicon Valley," a term that encompasses the epicenter of discovery located across Philadelphia in the area of gene and cellular therapies. Two of the CVC's most notable contributions include the production of vectors for KYMRIAH®, a chimeric antigen receptor T (CAR T)-cell therapy for leukemia, and LUXTURNA, a gene therapy used to treat a rare form of inherited blindness. Overall, the facility has enabled the production of more than 150 unique products and the treatment of 561 patients. Additionally, CVC-manufactured products have been used in 27 U.S. Food and Drug Administration Investigational New Drug applications and in 10 countries.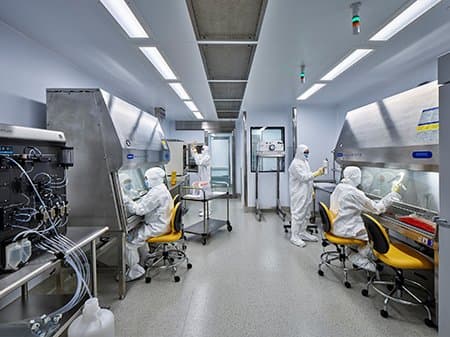 Figure 2. Manufacturing activities inside the aseptic cleanroom of the Clinical Vector Core. Photo courtesy of Dr. Johannes C. M. van der Loo, Children's Hospital of Philadelphia Research Institute.
Today, the CVC manufactures clinical and preclinical adeno-associated virus and lentivirus vectors (Figure 2). Dr. van der Loo emphasized that the facility staff's primary focus is to help investigators advance their therapeutics to clinical trials. Products for clinical use are manufactured in compliance with CGMP for Phase 1 and Phase 2 clinical trials, and products for preclinical use are manufactured using a GMP-comparable process. The facility supports a broad user base on a first-come, first-served basis, providing services to both in-house and external investigators.
Looking to the CVC's future, Dr. van der Loo remarked that the field of gene therapy is ever evolving. As more gene therapies are approved for clinical use, many efforts in this area are being transitioned to the pharmaceutical industry and implemented at a larger scale. The CVC refines its methodologies so that they remain compatible with the regulations of industry-level manufacturing, ultimately helping ensure that the products are clinically successful. Dr. van der Loo underscored the facility's unique role within this space, which reflects the driving dedication and vision of its staff. "It is a labor of love; you need to be able to be passionate about the cause to be able to do this work in a nonprofit setting," Dr. van der Loo reflected. "So, it is a very challenging job, but it's a very rewarding job."
Visit ORIP's website for more information on the ARRA program and awards.
Last updated: 03-14-2023