Nonhuman Primate Study Demonstrates the Value of ORIP-funded Resources for COVID-19 Research
A recent study by a team of researchers at the Southwest National Primate Research Center (SNPRC) and Texas Biomedical Research Institute, in collaboration with Washington University in St. Louis, highlights ORIP's commitment to supporting high-impact animal research to better understand the pathogenesis of SARS-CoV-2, the virus that causes COVID-19.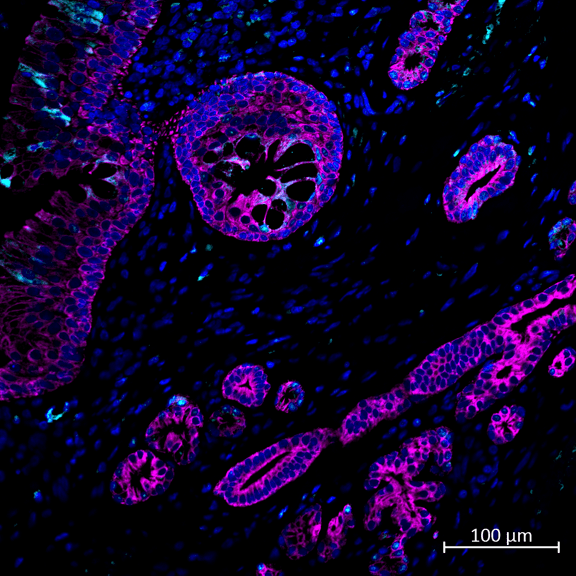 Figure 1. Immunohistochemical localization of SARS-CoV-2 nucleoprotein (NP) in nasal tissue of a rhesus macaque 3 days after infection. Immunofluorescent staining for SARS-CoV-2 NP is shown in teal within the cytoplasm of nasal epithelial cells, and submucosal glands are shown in magenta. NP is sporadically present in cells in the stroma of the submucosa. All cell nuclei are stained blue. Image courtesy of Dr. Dhiraj Kumar Singh, SNPRC.
In a paper published this week in Nature Communications,1 the team of collaborators described the immune response to SARS-CoV-2 at an early stage of infection. They studied lung tissue samples collected from a rhesus macaque model that mimics the course of COVID-19 in humans. Using single-cell RNA sequencing, the researchers characterized changes in the gene expression landscape that occur in the macaque lung 3 days after infection (Figure 1).
"To understand the sequence of events [following infection] in this model involving interferon is very important," stated Dr. Deepak Kaushal, Professor and Director of the SNPRC and one of the three corresponding authors of the paper. "Our data show very clearly which cells in the lung have the propensity to produce interferon and therefore orchestrate the whole cascade."
Dr. Kaushal explained that the team's findings indicate that the type 1 interferon protein plays a protective role early during the course of infection. This interferon promotes the accumulation of macrophages and T lymphocytes, inducing an antiviral gene signature that facilitates clearance of infection. These findings—together with other ORIP-supported nonhuman primate (NHP) research—could provide key insight for the development of new therapeutics for COVID-19.
The SNPRC is part of the National Primate Research Centers (NPRC) Consortium, which provides animals, facilities, expertise, and resources required to enable NHP research in specific disease areas. The ORIP-funded Centers have played a crucial role in the distribution of NHP models to the research community during the COVID-19 pandemic.
Dr. Dhiraj Kumar Singh, a staff scientist at the SNPRC and one of the lead authors of the Nature Communications article, explained that the SNPRC began developing NHP models for COVID-19 at the beginning of the pandemic. In the spring of 2020, tissue samples were collected from macaques infected with SARS-CoV-2 for initial studies on infection in NHPs.2,3 Since this time, studies on this initial set of animals have yielded multiple data sets, including the data published most recently in Nature Communications.
"An initial goal at the start of the pandemic was to establish nonhuman primate models for COVID. At that time, we didn't know much about the disease," Dr. Singh recounted. "But by the time of this study, we had already developed a large data set on different compartments from the same animals. With this information, we can corroborate our findings in a much more comprehensive and intrinsic way. I think in the future, we will have even more interesting data sets coming out of these samples."
This effort to glean as much knowledge as possible from a single set of animals highlights ORIP's and the NPRC Consortium's commitment to promoting the refinement and reduction of animals for biomedical research. Drs. Kaushal and Singh emphasized that the studies leveraging samples from the initial set of infected macaques are independent but interconnected; each study yields valuable information that can inform the interpretation of future work.
"This is an excellent example of best practices in biomedical research involving laboratory animals," said Dr. Larry Schlesinger, President and CEO of Texas Biomedical Research Institute, which hosts the SNPRC. "These insights could not be gained without animal models, but we are always looking for ways to minimize how many are needed. Thanks in large part to ORIP's support and SNPRC's world-class veterinarians, pathologists, and researchers, we are able to store biological samples and continue to study them to gain ever more detailed insights that can benefit human health."
SNPRC receives various forms of NIH support (e.g., P51, U42, C06, S10 awards) that provide a crucial basis for the Center's research activities. The SNPRC offers multiple services in support of biomedical research, including the fulfillment of requests for animals, biomaterials (i.e., fresh and frozen tissues), and other forms of research support. The Center's services are available both to internal and external investigators who use the NHP model to make biomedical discoveries.
"It's really important to do therapeutics and vaccine research on SARS-CoV-2—not just for SARS-CoV-2, but for the next pandemic," Dr. Kaushal emphasized. "To make such rapid advances in our understanding of viral pathogenesis in the midst of a once-in-a-lifetime pandemic would not be possible without ORIP's support."
More information on the NPRC program is available at ORIP's website.
References
1 Singh DK, Aladyeva E, Das S, et al. Myeloid cell interferon responses correlate with clearance of SARS-CoV-2. Nat Commun. 2022;13(679). doi: 10.1038/s41467-022-28315-7.
2 Singh DK, Singh B, Ganatra SR, et al. Responses to acute infection with SARS-CoV-2 in the lungs of rhesus macaques, baboons and marmosets. Nat Microbiol. 2021;6(1):73–86. doi: 10.1038/s41564-020-00841-4.
3 Rosa BA, Ahmed M, Singh DK, et al. IFN signaling and neutrophil degranulation transcriptional signatures are induced during SARS-CoV-2 infection. Commun. Biol. 2021;4(290):1–14. doi: 10.1038/s42003-021-01829-4.
Last updated: 02-04-2022