K01 Awardee Studies Innovative Approaches to Induce Protective Immunity Against HIV
Dr. Mauricio Martins has long been fascinated by the complexity of human immunodeficiency virus (HIV) and its relevance to public health. "The virus…is able to overcome the most sophisticated defenses in the immune system," Dr. Martins explained. As an immunologist, he is interested in developing new ways to harness the immune system to eliminate HIV.
While he was a new investigator at the University of Miami, Dr. Martins learned about one of the Office of Research Infrastructure Programs' (ORIP) K01 Mentored Research Scientist Development Awards from his mentors, Dr. David Watkins and Dr. Ron Desrosiers. One of ORIP's K01 Programs, co-sponsored by the Office of AIDS Research, targets HIV/AIDS researchers using the nonhuman primate model and provides support and protected time for an intensive, supervised research experience to advance the career of a new/early-stage investigator. Dr. Martins received this K01 award to support innovative research to determine whether a recently approved cancer treatment, ipilimumab, could boost the effectiveness of a vaccine against simian immunodeficiency virus (SIV) in rhesus macaques, a monkey version of HIV.
The idea that eventually led to Dr. Martins' K01 award sprang from the progress being made in the study of immunotherapy for treating cancer. Ipilimumab, an anti-CTLA-4 monoclonal antibody approved to treat melanoma, caught his attention and he wondered "if a similar approach could be used to amplify vaccine-induced immune responses against HIV."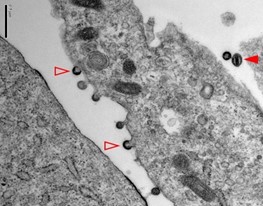 Figure 1. Transmission electron microscopic (TEM) image of a section of a rhesus fibroblast infected with the live recombinant RRV vector that was used to vaccinate the rhesus macaques. The image shows SIV particles budding from the plasma membrane (empty red arrowheads) and a mature SIV particle (filled red arrowhead). Image courtesy of Greg Hendricks, University of Massachusetts.
Dr. Martins' plan was to test whether ipilimumab could be used to increase the immune response to a new SIV vaccine modality in rhesus macaques. This vaccine modality consisted of a recombinant (r) DNA prime, followed by a booster with rhesus monkey rhadinovirus (RRV)—a herpesvirus that establishes persistent infection in rhesus monkeys. Both the rDNA and the rRRV vectors encoded a near-full-length SIV genome capable of assembling noninfectious SIV particles (Figure 1). The K01 funding provided Dr. Martins with access to ORIP supported nonhuman primate resources, allowing him to test the efficacy of this DNA/RRV vaccine with or without ipilimumab treatment during the DNA priming phase. He was surprised to find the vaccinated animals that did not receive ipilimumab were significantly protected against infection but the ipilimumab-treated animals, while exhibiting a slightly higher immune response, were not protected from infection with a highly pathogenic SIV clone. From this experience, Dr. Martins concluded, "I learned the hard way that we cannot rely [solely] on immunogenicity to predict the outcome of a challenge experiment in monkeys."
The K01 grant funded the research covered in Dr. Martins' publications in PLoS Pathogens and the Proceedings of the National Academy of Sciences.1-2 He also published several other papers on HIV vaccine development during his K01 award period.3–5
ORIP's K01 award has had a profound impact on Dr. Martins' career. "[The award] gave me the opportunity to conduct research I really wanted to do and the ability to successfully submit additional grants. It also served as a bridge to help me transition to an academic position as assistant professor." In addition, the K01 funding allowed Dr. Martins to attend HIV Vaccine Trials Network (HVTN) conferences, where he met colleagues at the California National Primate Research Center (CNPRC), who were engaged in similar work.
Dr. Martins currently is an assistant professor at Scripps Research in Florida (Figure 2). He was able to easily transition his K01 funding from the University of Miami to Scripps and noted that ORIP staff were especially helpful in making this transition easy. Although his K01 funding ended in early 2020, Dr. Martins continues to build on his K01-funded HIV immunology research, exploring the use of adeno-associated virus–mediated gene therapy to combat perinatal HIV infection. Through a pilot grant from the Miami Center for AIDS Research at the University of Miami Leonard M. Miller School of Medicine and additional funding from the Bill & Melinda Gates Foundation, Dr. Martins has been testing the feasibility and safety of delivering broadly reactive neutralizing antibodies (bnAbs) and bnAb-like molecules to newborn rhesus macaques to prevent infection with chimeric simian-HIV viruses. "The results were very promising, as nearly all animals in the experimental groups were completely protected," reported Dr. Martins. He recently submitted grant applications to the Eunice Kennedy Shriver National Institute of Child Health and Human Development to continue his research on the use of HIV entry inhibitors for the prevention and treatment of perinatal HIV infection.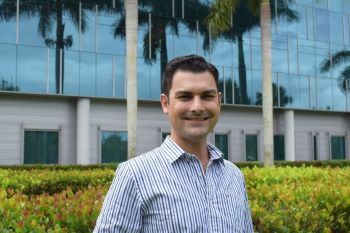 Figure 2. Dr. Mauricio Martins in front of the Scripps Research Institute in Florida. Photo courtesy of Stacey Deloye, Scripps Research.
Dr. Martins' ability to obtain funding for his own research and his applications for NIH R01 funding demonstrate how the intensive, supervised research experience provided by ORIP's K01 Awards leads to career advancement and research independence for new investigators. ORIP offers two K01 Mentored Research Scientist Development Awards. The HIV/AIDS Scholars Using Nonhuman Primate (NHP) Models Award received by Dr. Martins provides support for mentored research career development focusing on HIV/AIDS studies using NHPs as preclinical models. The Special Emphasis Research Career Award (SERCA) in Pathology and Comparative Medicine K01 assists graduate veterinarians in becoming independent biomedical investigators who direct their research careers to the broad fields of comparative and/or translational medicine.
References
Gonzalez-Nieto L, Castro IM, Bischof GF, Shin YC, Ricciardi MJ, Bailey VK, Dang CM, Pedreño‑Lopez N, Magnani DM, Ejima K, Allison DB, Gil HM, Evans DT, Rakasz EG, Lifson JD, Desrosiers RC, Martins MA. Vaccine protection against rectal acquisition of SIVmac239 in rhesus macaques. PLoS Pathog. 2019 Sep 30;15(9):e1008015. 
Martins MA, Bischof GF, Shin YC, Lauer WA, Gonzalez-Nieto L, Watkins DI, Rakasz E, Lifson JD, Desrosiers RC. Vaccine protection against SIVmac239 acquisition. Proc Natl Acad Sci U S A. 2019 Jan 29;116(5):1739-1744. doi: 10.1073/pnas.1814584116. PMCID: PMC6358712.
Martins MA, Shin YC, Gonzalez-Nieto L, Domingues A, Gutman MJ, Maxwell HS, Castro I, Magnani DM, Ricciardi M, Pedreño-Lopez N, Bailey V, Betancourt D, Altman JD, Pauthner M, Burton DR, von Bredow B, Evans DT, Yuan M, Parks CL, Ejima D, Allison DB, Rakasz E, Barber GN, Capuano S 3rd, Lifson JD, Desrosiers RC, Watkins DI. Vaccine-induced immune responses against both Gag and Env improve control of simian immunodeficiency virus replication in rectally challenged rhesus macaques. PLoS Pathog. 2017 Jul 21;13(7):e1006529. doi: 10.1371/journal.ppat.1006529. PMCID: PMC5540612.
Martins MA, Gonzalez-Nieto L, Shin YC, Domingues A, Gutman MJ, Maxwell H, Magnani DM, Ricciardi MJ, Pedreño-Lopez N, Bailey VK, Altman JD, Parks CL, Allison DB, Ejima K, Rakasz EG, Capuano S, Desrosiers RC, Lifson JD, Watkins DI. The frequency of vaccine-induced T-cell responses does not predict the rate of acquisition after repeated intrarectal SIVmac239 challenges in Mamu-B*08+ rhesus macaques. J Virol. 2019 Mar 1;93(5):e01626‑18. doi: 10.1128/JVI.01626-18. PMCID: PMC6384082.
Martins MA, Tully DC, Pedreño-Lopez N, von Bredow B, Pauthner MG, Shin YC, Yuan M, Lima NS, Bean DJ, Gonzalez-Nieto L, Domingues A, Gutman MJ, Maxwell HS, Magnani DM, Ricciardi MJ, Bailey VK, Altman JD, Burton DR, Ejima K, Allison DB, Evans DT, Rakasz EG, Parks CL, Bonaldo MC, Capuano S 3rd, Lifson JD, Desrosiers RC, Allen TM, Watkins DI. Mamu-B*17+ rhesus macaques vaccinated with env, vif, and nef manifest early control of SIVmac239 replication. J Virol. 2018 Jul 31;92(16):e00690-18. doi: 10.1128/JVI.00690-18. PMCID: PMC6069176.
Last updated: 01-15-2021